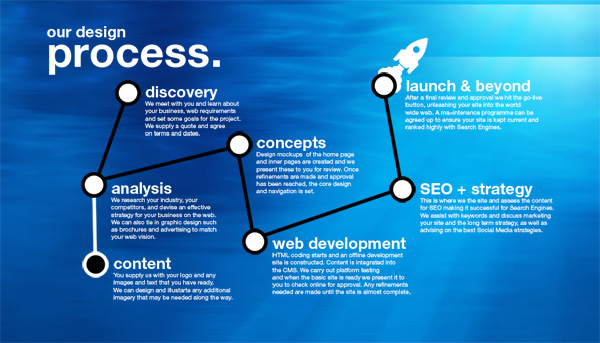 Analysis
We research your industry, your competitors, and devise an effective strategy for your business on the web. We can also tie in graphic design such as brochures and advertising to match your web vision.
Discovery
We meet with you and learn about your business, web requirements and set some goals for the project. We supply a quote and agree on terms and dates.
Content
You supply us with your logo and any images and text that you have ready. We can design and illustrate any additional imagery that may be needed along the way.
Concepts
Design mockups of the home page and inner pages are created and we present these to you for review. Once refinements are made and approval has been reached, the core design and navigation is set.
Web Development
HTML coding starts and an offline development site is constructed. Content is integrated into the CMS. We carry out platform testing and when the basic site is ready we present it to you to check online for approval. Any refinements needed are made until the site is almost complete.
Launch & Beyond
After a final review and approval we hit the go-live button, unleashing your site into the world wide web. A maintenance programme can be agreed upon to ensure your site is kept current and ranked highly with Search Engines.
SEO + Strategy
This is where we assess the site content for SEO and make it successful for search engines like Google. We assist with keywords and discuss marketing your site and the long term strategy, as well as advising on the best Social Media strategies.
Our Contacts
Postal
PO Box 5962
Dunedin 9058
New Zealand